If you've been on the internet at all recently, you'll have definitely heard of TikTok. This video sharing app is completely dominating the social media world as of present.
TikTok is primarily used by Gen-Z, however, they're not the only ones loving it. People of all ages are beginning to download the app it's fun and informative content. TikTok videos can rake in millions of views due to it's innovative explore page design.
With so much attention being drawn to the app, it's a great opportunity for brands to advertise their products. A few have already made their mark with creative advertising techniques. 
The Ordinary Peeling Solution
Being one of TikTok's most loved products, we had to include The Ordinary Peeling Solution at the top of the list. 
This eye-catching, red liquid can be found throughout the beauty blogger community; using it in their pre-makeup skin routine.
The solution comes with a droplet applicator, so when applying it to your face, it can be easily mistaken with blood by its texture and deep red colour. Because of this unusual characteristic, the product has gained TikTok virality as a result.
Besides The Ordinary Peeling Solution being a complete attention grabber, it's also full of amazing ingredients which are beneficial for the skin – and for an affordable price at only £6.30 in the UK.
Take Away: Products which are intriguing, containing something unusual in their delivery or aesthetic, will intrigue viewers and leave them wanting more.
Too Faced Lip Plumping Gloss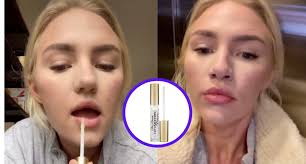 Despite it's current popularity, the Too Faced Lip Pumping Glass actually came out in 2013 – sustaining popularity ever since.
The brand noticed a challenge circulating on TikTok where creators would compare their natural lips to their super plumped lips and decided to capitalise on the idea.
This isn't the only time they've used TikTok challenges to their advantage. With their mascara launch, they used the same concept. Too Faced created the hashtag #TFDamnGirl for users to upload with their videos. Doing so resulted in over 800M views under the hashtag and a substantial amount of recognition for the product. 
Take Away: Creating a before and after challenge on TikTok is a genius way to market your products. This method shows exactly what it can do, while encouraging others to try it themselves.
Marc Anthony Strictly Curls
This product gained traction very unexpectedly for Marc Anthony. When the hashtag #strictlycurls was created by BeautyCon, asking creators to show off their best curls, Marc Anthony decided to jump on the bandwagon. 
By displaying how the product is used, they were able to encourage viewers to use their Strictly Curls Gel to achieve their ideal look. This became a viral sensation with over 8.1M views on the hashtag. The parent company MAV also reported an uptick of 60% in sales.
What's most interesting part of this product's virality, was that it introduced a new demographic to the brand. With buyers usually between the ages of 25 – 40, it was now being used by a much younger audience of 12 – 15. 
Take Away: Relevant hashtags and existing challenges can be utilized to get your product in front of new demographics. You don't have to create your own challenge to reap the benefits.
Chipotle Burrito Bowls
After a Chipotle employee uploaded a video of themselves creatively flipping the lid of their burrito bowl in the air to close it, Chipotle decided to run with the idea for their Cinco De Mayo campaign. In return for customers "flipping the lid", they offered free delivery on orders.
To elevate things further, they even got influencer David Dobrik to join in on the challenge and share it with his own audience.
The end result of combining the challenge along with a discount resulted in over 300M views and record sales for the Chipotle brand.
Take Away: Using the concept of a challenge in return for discount, along with influencer backing, can result in a viral sensation and a huge boost in sales!
E.L.F Poreless Putty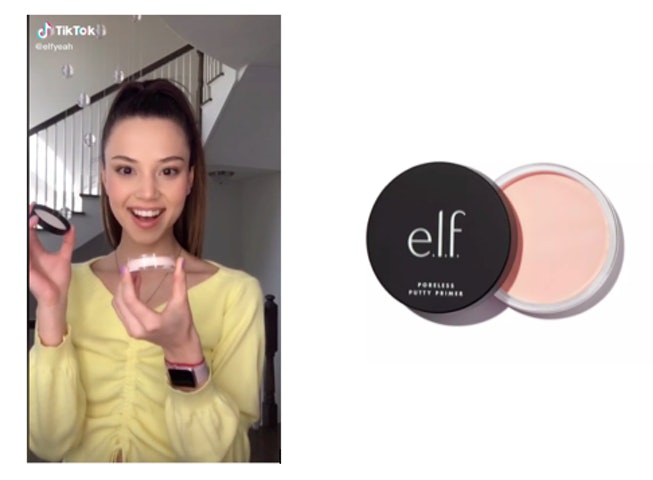 Popular make-up brand E.L.F were one of the few companies to jump on the idea of TikTok advertising earlier rather than later. 
They created the hashtag #EyesLipsFace for TikTok users to upload their videos to which has since netted over 5 billion views! – now that's good advertising!
Although their products were not represented directly within the hashtag, they were still able to achieve viral popularity. In 2020, they have reported a 26% revenue increase, likely thanks to this marketing technique.
Take Away: Testing marketing techniques on new platforms like TikTok while in their infancy can give your ad campaigns a kick-start before other advertisers move in too. 
It's quite clear just how incredible of a platform TikTok is for brands to promote on, and this grows every single day. With the nature of this app, it forces brands to be creative and think beyond their typical asset deck. Want to read more? Check out our fool-proof guide on getting onto the TikTok For You page. Or, read more about the top influencer marketing tools in 2020!
To learn more about marketing digitally, connect with us at ReactionLab by signing up to our newsletter to receive exclusive marketing insights from us.